MorphToken is a reputable, anonymous instant crypto exchange, offering a decent amount of coin combinations for conversion, as well as an ability to convert one coin to multiple coins in a single trade (pretty cool feature).
Link to MorphToken
What is MorphToken?
MorphToken takes one cryptocurrency and outputs one or more cryptocurrencies. It operates without user accounts, allowing to quickly exchange multiple assets.
Scenarios:
Convert to one asset, e.g. send XMR to receive BTC.
Convert to multiple assets, e.g. send LTC to receive 80% in BTC and 20% in XMR.
Forward without conversion, e.g. send ETH to receive 50% in ETH for address 1 and another 50% in ETH for address 2.
Currently, the cryptocurrencies accepted are: Bitcoin (BTC), Ethereum (ETH), BitcoinCash (BCH aka BCHN), Litecoin (LTC), Dash (DASH), Monero (XMR).
What are the fees?
MorphToken charges a flat fee for the output network and a dynamic service fee for trading assets.

Network Flat Fee
| | |
| --- | --- |
| Bitcoin | 0.00065 |
| Ethereum | 0.01 |
| BitcoinCash | 0.0001 |
| Litecoin | 0.001 |
| Dash | 0.0001 |
| Monero | 0.00008 |
These fees are subject to change, in particular during network congestion.

Service Fee
When a trade is started the seen rate is always displayed below each selected asset. The final rate will depend on when your deposit gets confirmed, which causes MorphToken to perform the asset exchange. Compared to the best bid/ask price from a regular exchange, it's expected that the service fee stays within 0.5% to 0.7% of that.
If the request involves a single asset, e.g. forward bitcoin to one or more bitcoin addresses, a 0.25% fee is used.

Example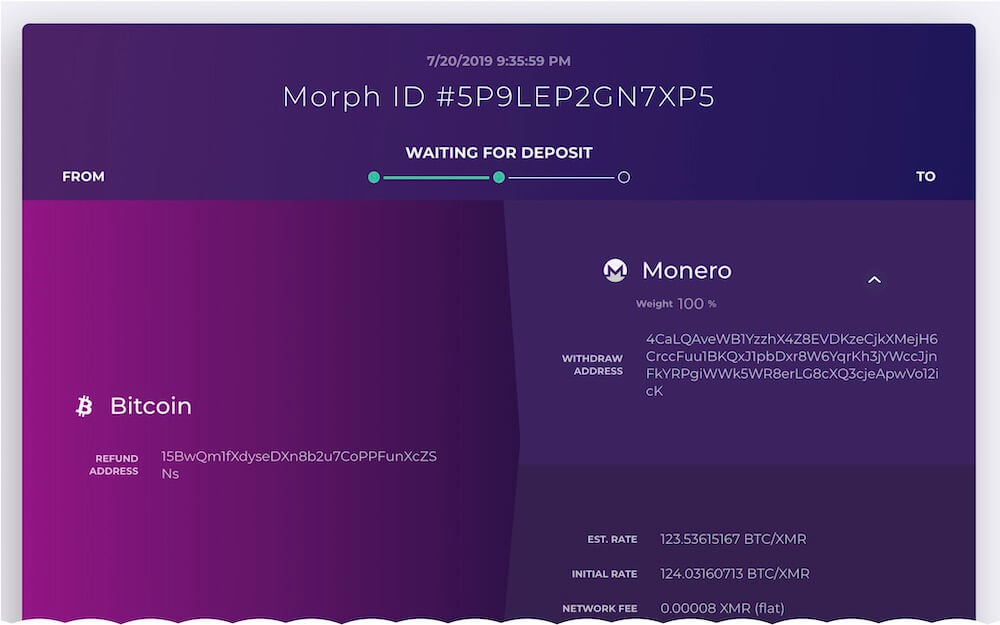 A request for trading BTC for XMR was created. When BTC is sent to the deposit address given by MorphToken (not shown above), 100% of it will be converted to XMR.
When the request was created, a rate of 1 BTC = 124.03160713 XMR was seen. Currently the estimated rate is 123.53615167 XMR and assuming the final rate is the same, depositing 1 BTC would give 123.53615167 XMR minus the network fee for XMR.
How many confirmations are required?
For now every token is exchanged after the deposit receives one confirmation.
What happens if I send less than the minimum amount?
When a trade starts the minimum amount accepted is displayed, if you send less than that a refund will occur later in the day if the amount is above the network fee. Amounts below the network fee are not refunded.Only the first deposit is accepted for a trade.
In the following picture, observe how a trade displays the limits accepted. Sending 1 transaction with an amount greater or equal to the minimum (Min Deposit) and lower or equal to the maximum (Max Deposit) will ensure the trade is accepted.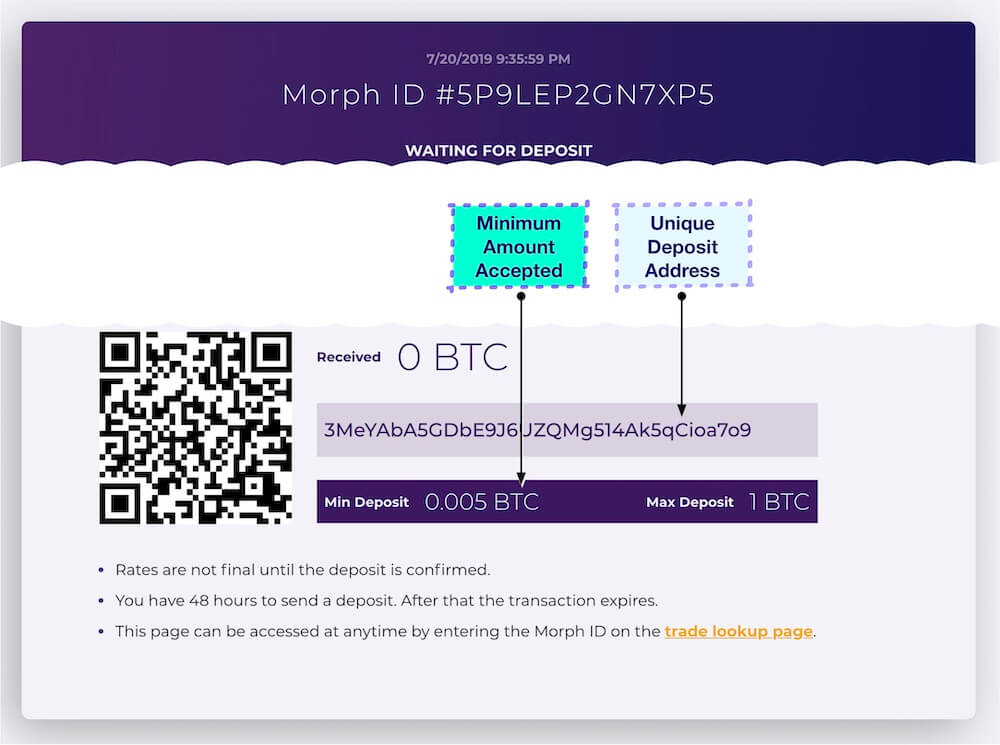 What happens if I send more than the maximum amount?
Usually, amounts above the maximum will be refunded as soon as possible.
But if you happen to send many times over the maximum amount we will wait for an email to start the refund. Refunds for these cases require manual signatures and might take long to be processed.
How long can I wait to send funds?
A trade without a deposit is canceled automatically 2 days after its creation.
Said that, it's recommended to send as soon as the trade starts so the seen rate and final rate are likely to be close and the amounts received will match the initial expectation.
What are perpetual trades?
A perpetual trade provides a reusable address, which allows receiving many deposits. When a perpetual trade is created, the refund and output addresses are fixed as well the deposit limits. Each time a new transaction is received, a regular Morph trade is created. Each deposit must be within the limits, otherwise a refund is issued.
The original perpetual trade ID starts with "P-" and a reusable address is displayed in gold: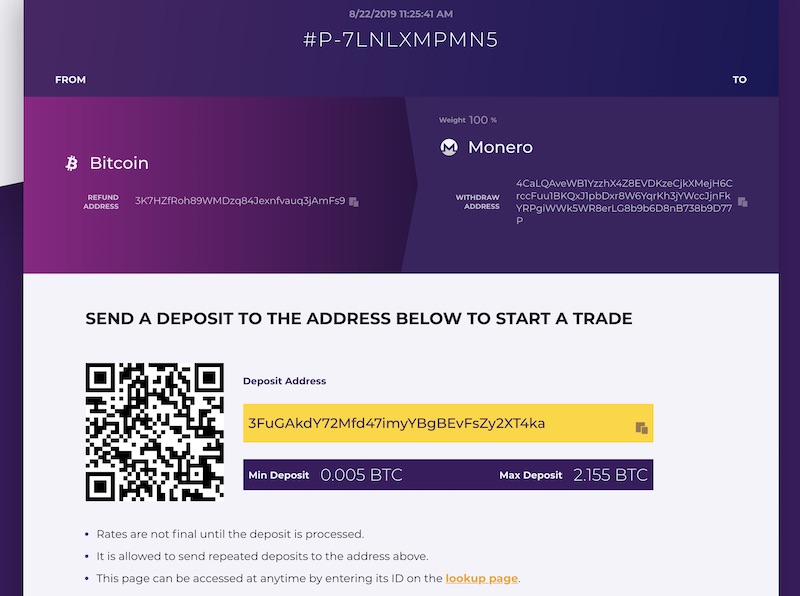 Perpetual trades provide a simple trade history for all trades started from it: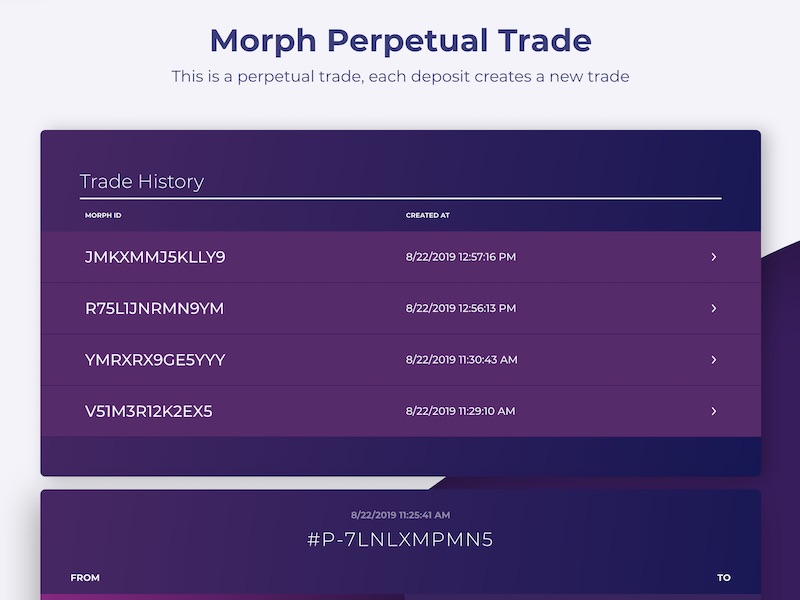 How are refunds involving forks handled?
In some cases it's possible to send a transaction that includes extra assets. For example, it's possible to send BCH that also happens to include BSV. This question relates to such cases.
Fork Refund Policy
Contact by email is obligatory to initiate the process.
If the amount is lower than the equivalent of 0.1 BTC then it is not eligible for a refund.
Not all forks are accepted for refunds, MorphToken reserves the right to decide which ones are eligible.
Requests older than 30 days are not eligible.
In case of an eligible refund, a 10% fee applies and the expected recovery time is 4 weeks.
Example
20 BCH is sent to MorphToken today (July 12) and it happens to also have 20 BSV.
One week later (July 19) MorphToken is notified by email that this happened and accepts the request to refund.
Around August 19 MorphToken sends 18 BSV to the refund address specified in the original trade.
What information is collected?
We don't actively collect or share any user information or use any third party service for that (e.g. Google Analytics).
We keep logs regarding server activity, e.g. IP addresses, for a duration of up to 3 months to manage the service and track issues involving request time, errors, and other functionality required by MorphToken to operate as expected.
Trades up to 45 days old can be queried by Input Address or Morph ID, after that time they disappear.
Do you have a Referral program?
MorphToken offers a referral program for individuals, websites, and services in general via simple urls or API. Referrers receive 0.25% of the total output volume, paid at the end of the month.
For example, if your referrals total 12 BTC of volume for the month, you will receive 0.03 BTC at the end of the month. Given our fee model, this equates to an approximate 50% profit split between MorphToken and the referrer.
If you are interested in the MorphToken Referral Program, please contact us at [email protected] to get started.
Still have a question?
Email Us with your question and we'll get back to you as soon as we can.